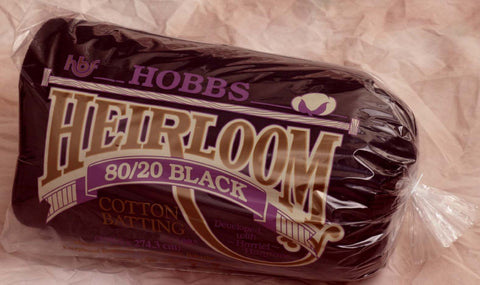 Hobbs Black 80/20 Blend Batting 120"x120"
Heirloom Premium 80/20 Black Cotton Blend is highly recommended for quilt tops created in black, navy or other dark colors. It is made using dyed cotton fibers to provide quilters with a batting that will not create light fiber lint on the quilt top during the quilting process.
This product is manufactured in the same manner as our Premium 80/20 in the natural cotton. This batting is made with 80% dyed cotton and 20% polyester. It is lightly needle punched and resin bonded to provide exceptional strength and durability.
Black Cotton Blend is wonderful to quilt by hand or machine. Close quilting yields a flat low loft appearance while more space between stitching lines yields a slightly higher loft. You may experience shrinkage of 3-5% and it may be quilted up to 4in apart.
We recommend that the quilt maker spend some time learning about this product before using it on a major project. Make samples using this batting to see how it launders and how it needles, both by hand and by machine, so that you can obtain the look you want in your final project.
---
We Also Recommend