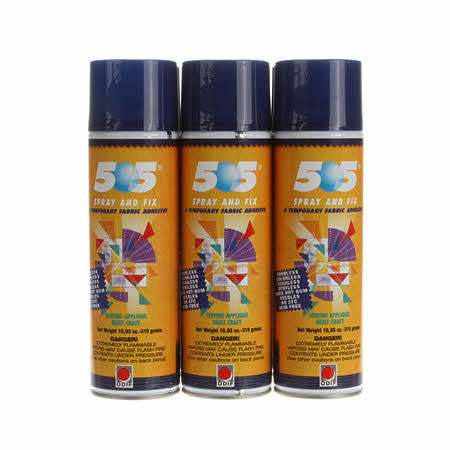 505 Spray and Fix by Temporary Fabric Adhesive (14.7 oz)
Please note:  This item can no longer be shipped as Canada Post does not offer Dangerous Goods Shipping.  If you would like to provide a label from another carrier for this item, I would be happy to drop it off at a location such as Purolator, Fed-Ex or UPS.  Please contact me if you have any questions.
505 Spray & Fix Temporary Fabric Adhesive is a temporary repositionable fabric adhesive designed for quilt basting, applique, sewing, embroidery and crafts. The adhesive will not transfer from the surface that is sprayed. Eliminates pinning and and allows repeated repositioning! It does not gum up sewing needles, cleans up with soap and water, and will not make your project sticky if applied to the pattern. It is colourless and acid-free.
---
We Also Recommend